Archive for September, 2006
So.
The shooting is officially 100% over and done with.
Finally.
After months of planning, and tons of preproduction work, we're done with the second phase of the production.
Every one, cast and crew, has done a fantastic job. I want to thank each and every one of them for everything they have done to help this production. It really means a lot to me. I can't even express my gratitude in words. Thank you.
I am very happy to have worked with such fantastic actors, and a fantastic crew.
Now, as the production chapter ends, it's time to start the next: post.
Here's to a November 15th release date!
So, today was the last day of shooting.
We were shooting the opening 'dream sequence.' Our first location was no good, as there were tons of soccer and football games going on, we ended up practicing to get to an estimated skill level for our video game with P4rgaming So, we moved on to another park location which was located in a quieter area. It was perfect, because it was empty up until the last five minutes.
Anyway, today I made Jan, and her son, Eric (who plays Young Scott) for the first time. Both were very nice and Eric was fantastic to work with. He's super hyper as well, haha! But he was great!
Rounding out the actors was my brother, Justinn, playing the role of Young Chase. He did a great job as well.
As for crew, it was myself, Bert, and Mike. Mike had to leave a bit early for a doctor's appointment, though, but it still worked out pretty well! Bert and I handled the rest of the shoot (about another hour) like champs.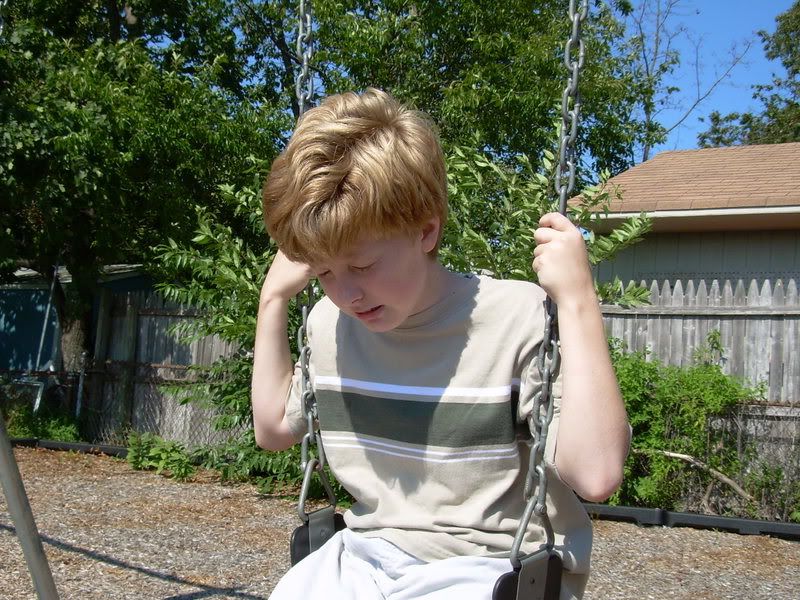 Eric Enger as Young Scott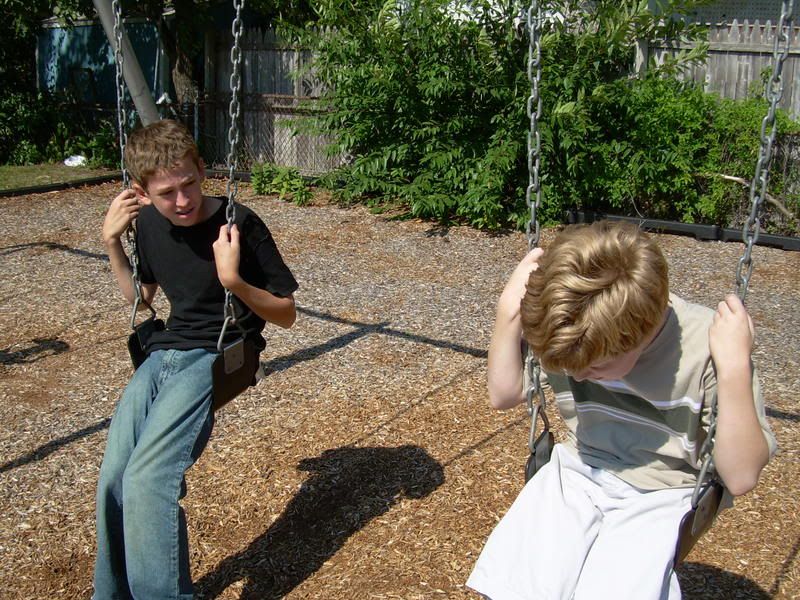 Justinn and Eric perform the scene.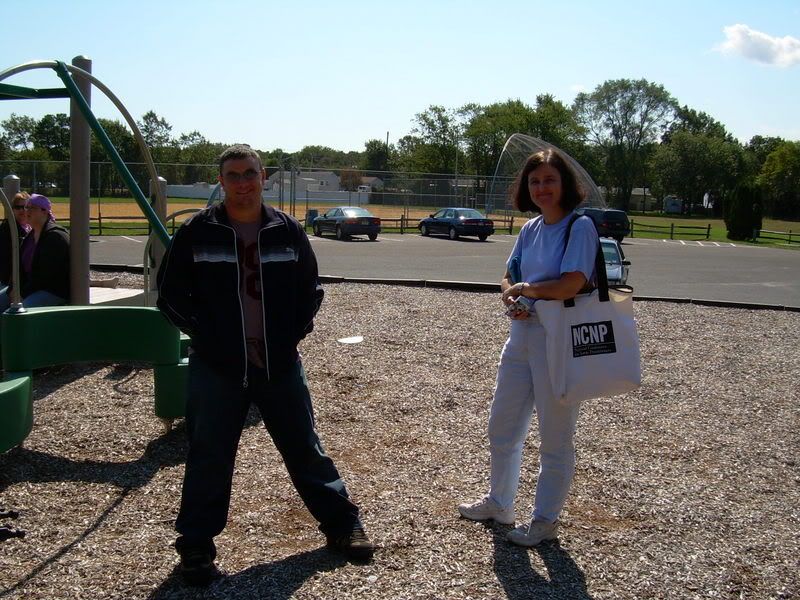 Bert and Jan after the shoot.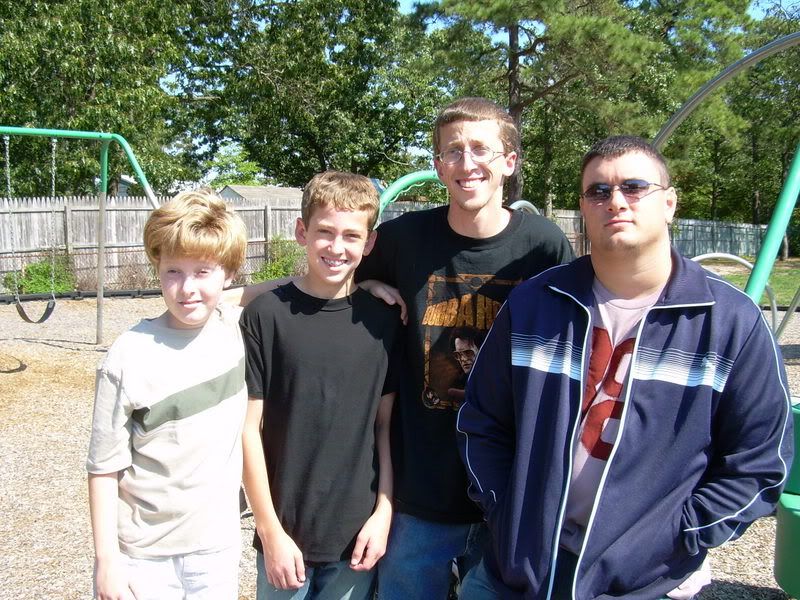 Group shot! Bert still looks like he's in the "Bert The Thug" role, haha

This is the last official set picture of "Off The Island," and I have no idea what the hell is going on in it.
Haha
So, when I first started this project, I was so gung ho of getting it done before the new season. October 3rd was the release day I set for myself. I really thought that was an attainable goal.
However, after all the filming, and the minor setbacks, there's just no way in hell we can have a final product in a week.
As much as I'd like people to see this film as soon as possible, I don't want to rush something out there that could be made better with a little more time and effort in post.
I still have a lot more editing to do, then Mike & I have to sound mix, and then Adam and Justin are doing some scoring.
However, what I do plan on doing is releasing a trailer on Oct. 3rd. That way, some form of tangable thing is out there on the release day.
I'll probably wait until the break in the season before releasing this thing into the wild.
Well…what an interesting weekend that was.I guess I should start with the beginning.
As you know from the previous thread, I cancelled Saturday's early morning shoot.
You see, Mark and I both woke up at 6:30, and we left William Paterson by 7:30. By 7:35, it started pouring. I called my mom to ask her if it was raining at home as well, which it was.
So, making a quick decision, I cancelled the morning's shoot. Rescheduled for next weekend.
Anyway, we waited until 12 to see how the weather was, and then started our trek yet again to Brick. Luckily, the weather stayed good, and we were able to shoot at 2 PM with Kevin and Tasha. This was the first time I had actually met Tasha, though I have spoken to her a lot before hand.
The scene went off without a hitch, as we had a lot of help from Mike and Bert. We even got to break out the crane.
After that, Mark & I went back to my house for a bit, went out to eat with my parents, and then went off to Phil's house to shoot the final scene of the movie. We got a little lost along the way (who the hell splits a road in half with no warning?)
Anyway, when we did get there, we got it done very quickly. We must have done the final "reveal" after 25 times though, haha.
Sunday morning started out with a little law breaking on my part (the less details you know, the better, haha).
Kevin, Bert, Robin, and Brian showed up around 10. We had to do a bit of rewriting to the scene due to the weather from previous days. We also had a minor set back, as Kevin forgot his shirt at home, so he had to get a new one. However, I think it worked out well, and the scene went off fantastically.
After that, we all went to the diner for lunch.
Then, back to shooting, as we shot the office scene, the last official scene with Chase in it.
Ironically, though, when we were leaving, Kevin realized he didn't forget his shirt…it was behind his seat.
At this point in time, we're 94% done. The principal cast is completely done with shooting. We just need to shoot the opening dream sequence.
We're so close to the end, I can taste it…
More pictures from the past two days!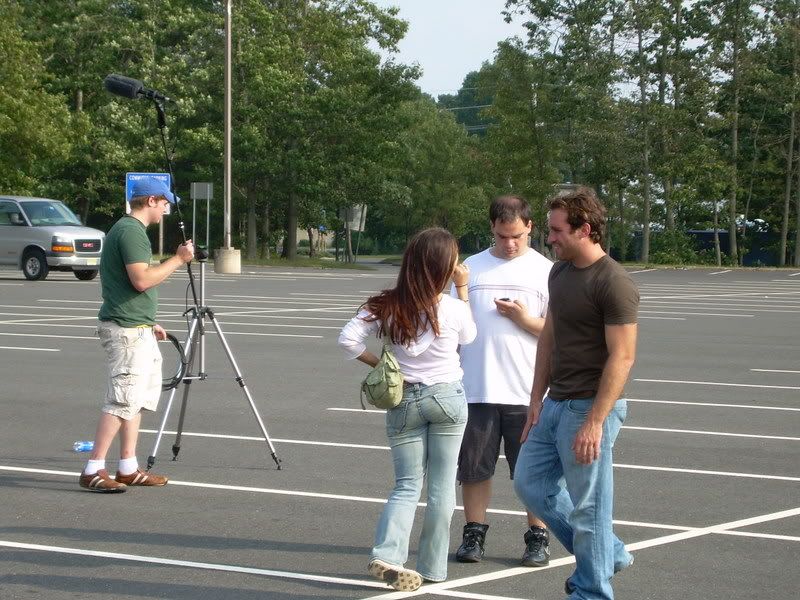 Getting ready to start shooting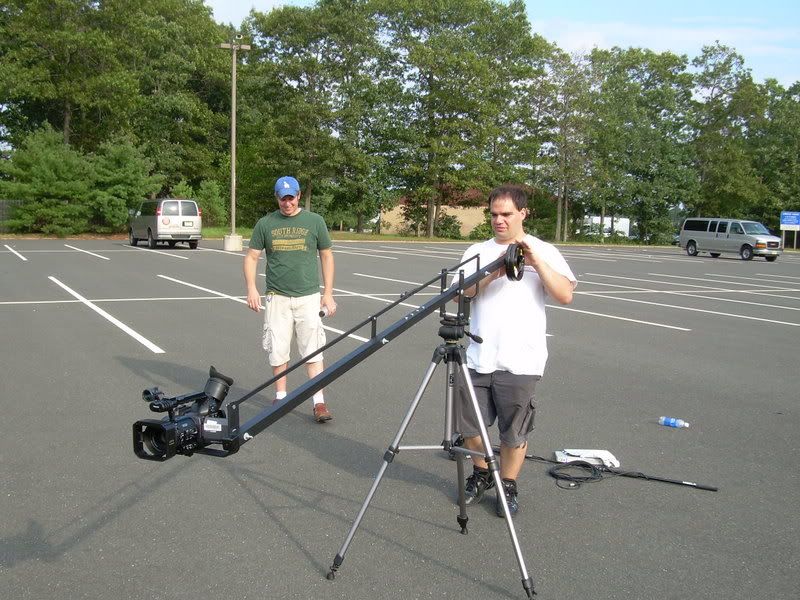 Mark testing the crane as Mike watches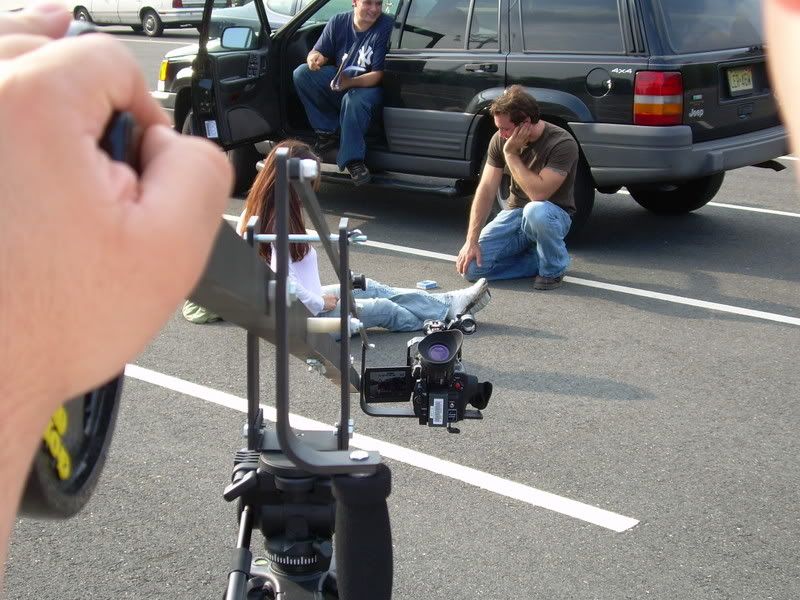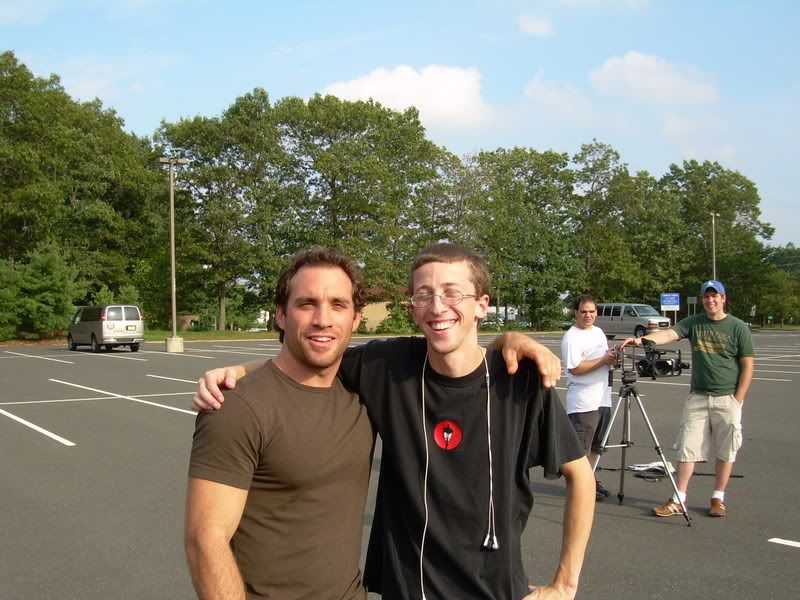 Actor and Director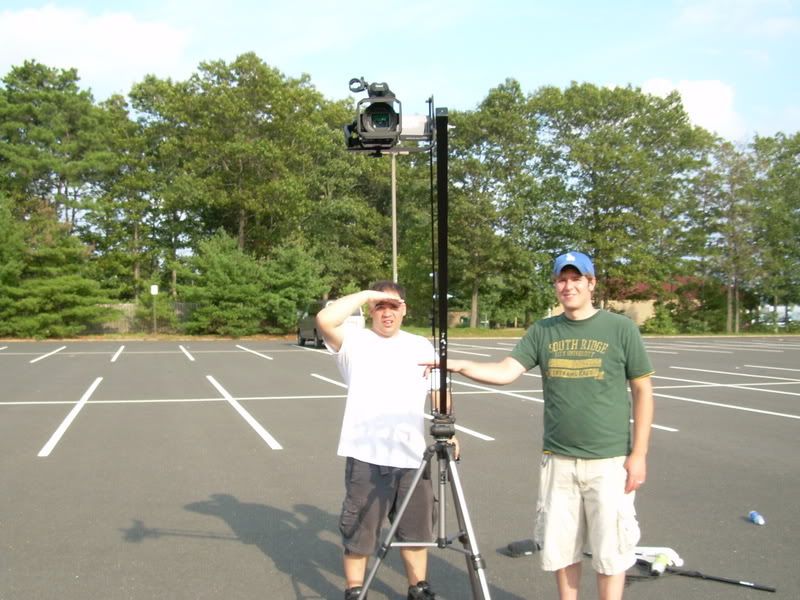 Mark and Mike testing out the crane some more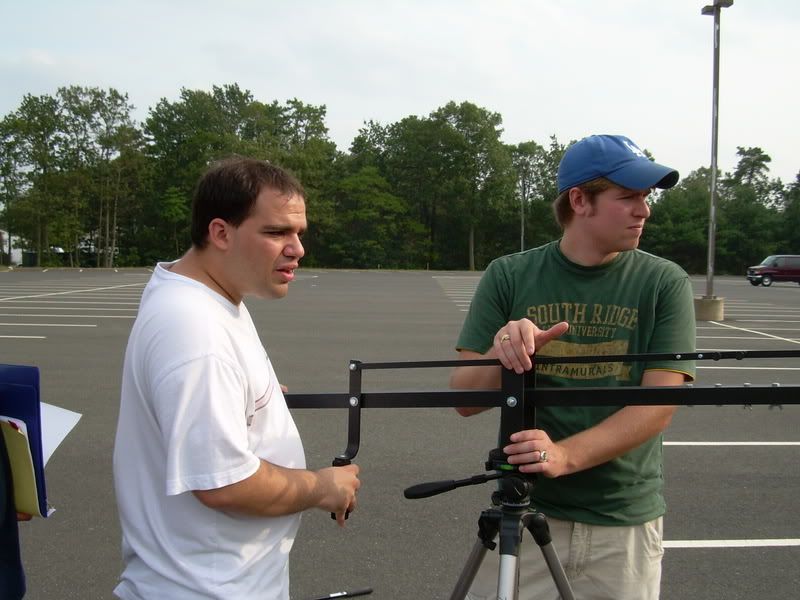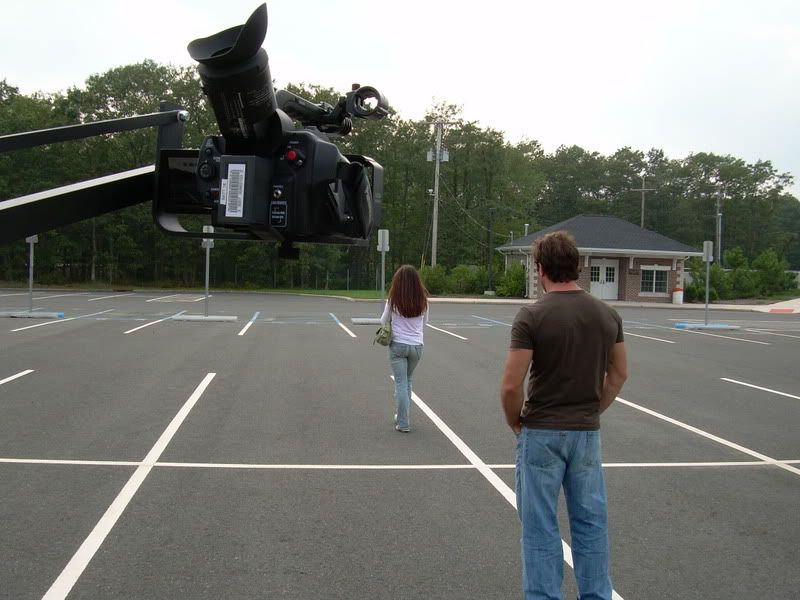 Filming with the crane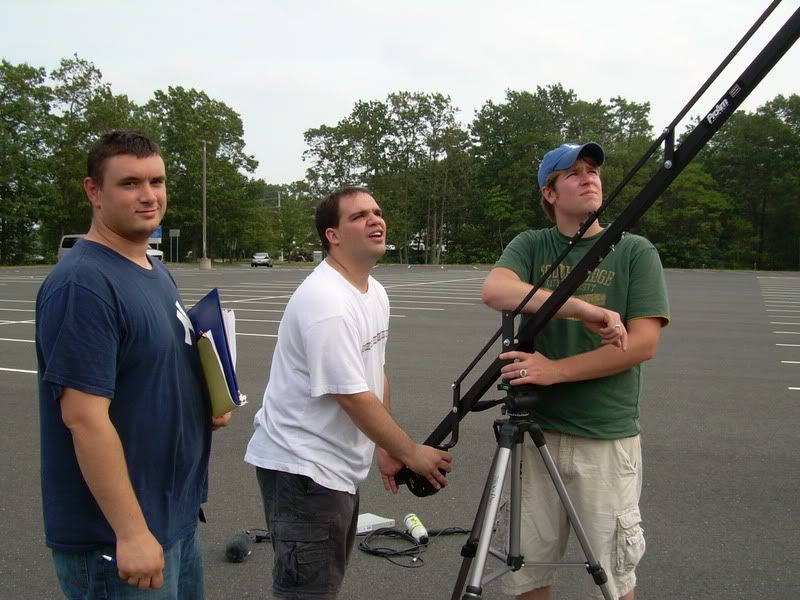 Bert, Mark, and Mike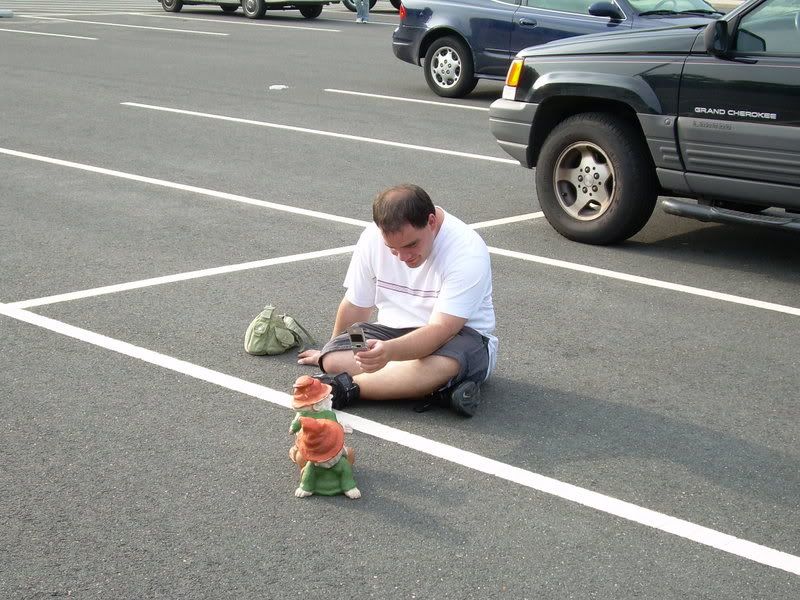 Don't ask…because I don't know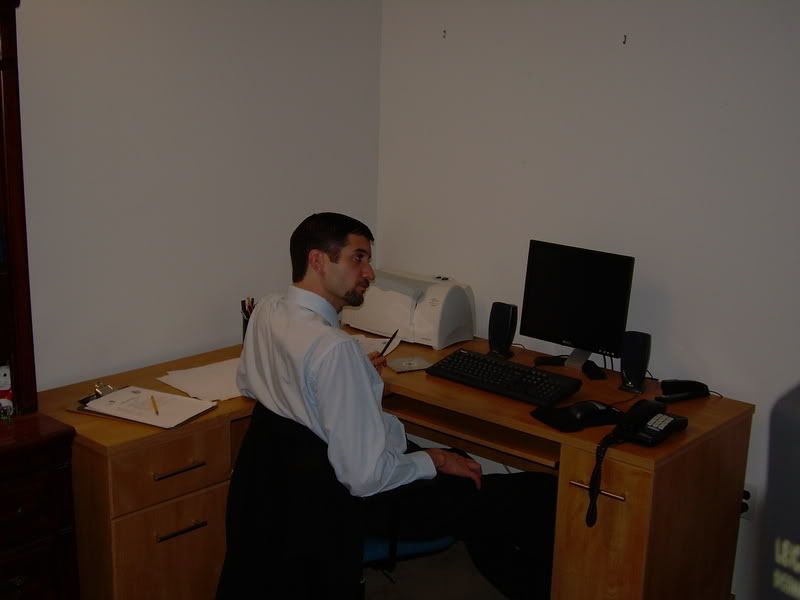 Phil in the office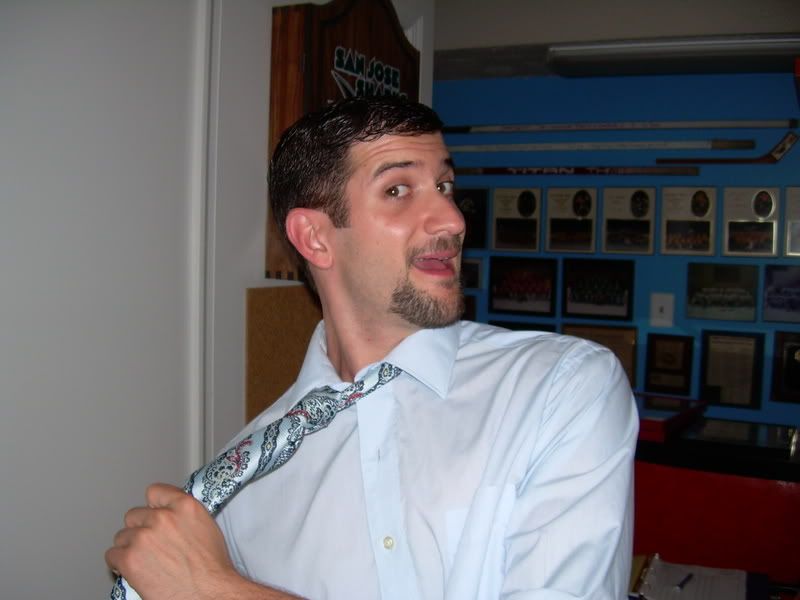 Phil having some fun!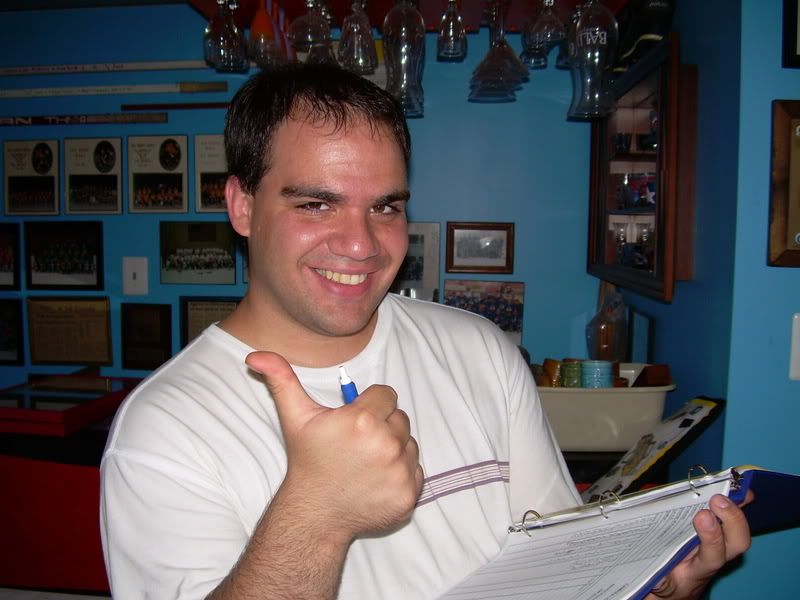 Mark hard at work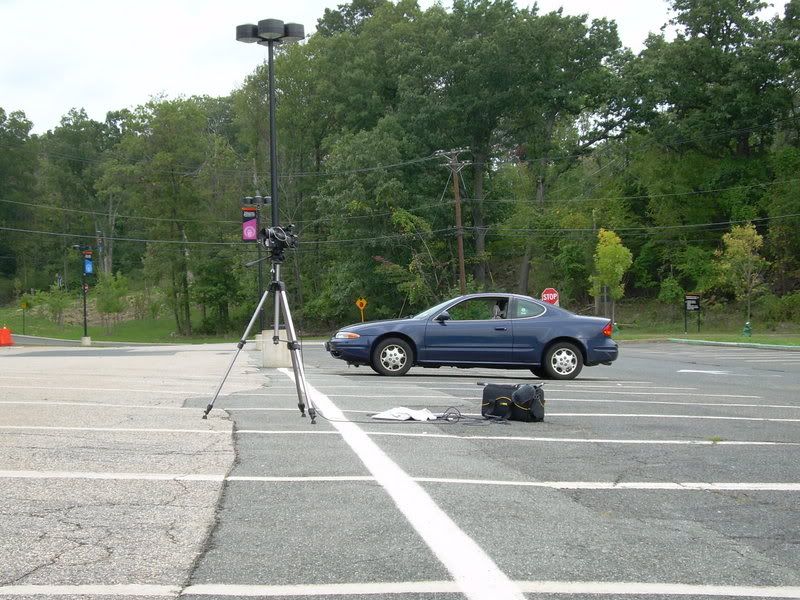 Just before we shot on Sunday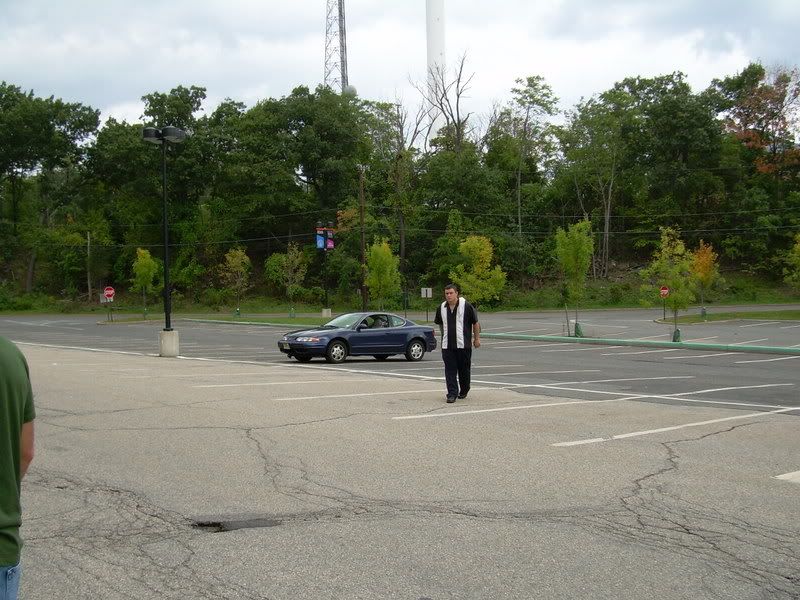 During the filming of the scene, Bert The Thug walks toward Chase and The Official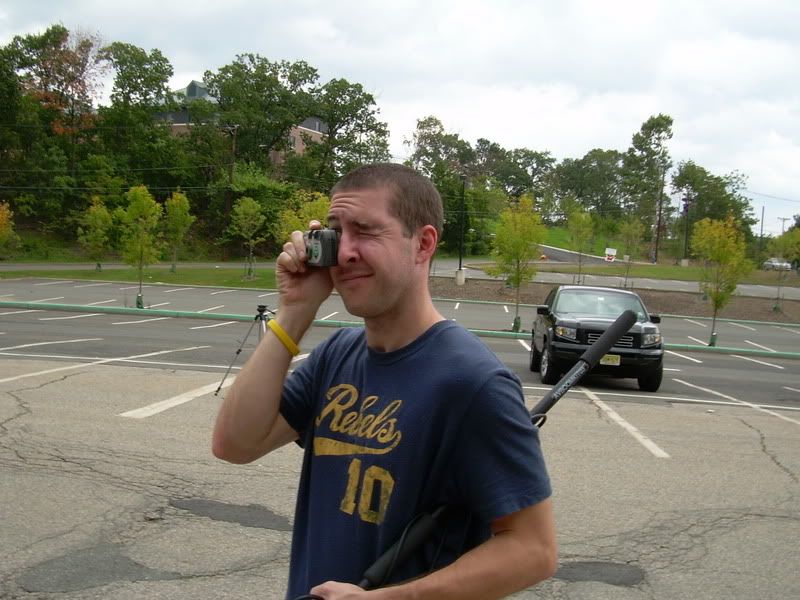 Taking a picture of Brian taking a picture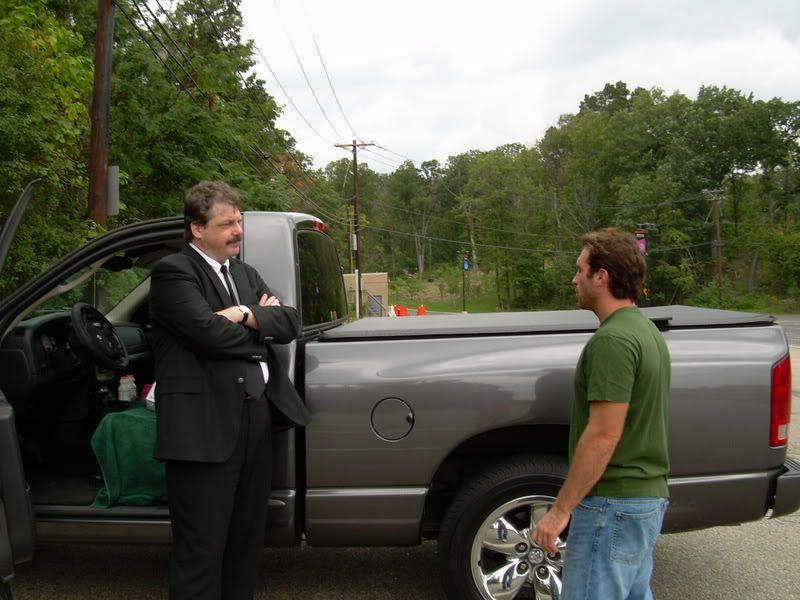 Chase and The Official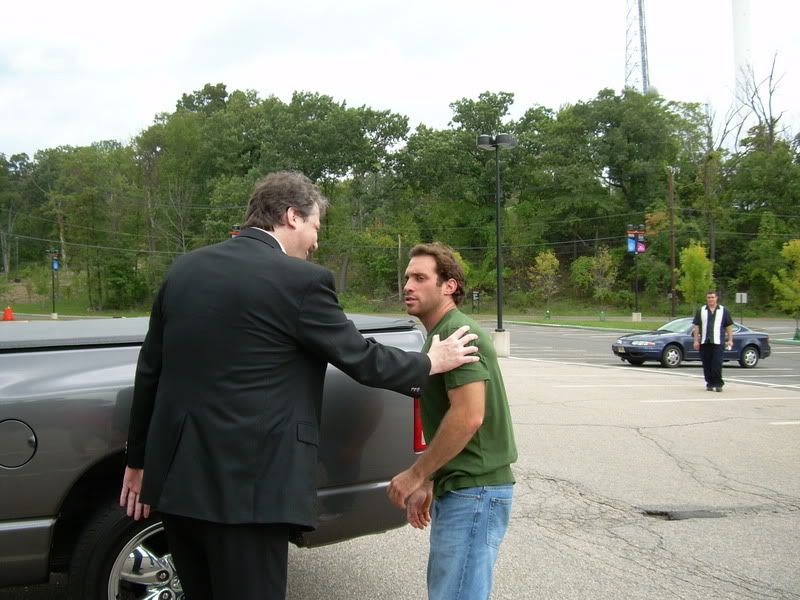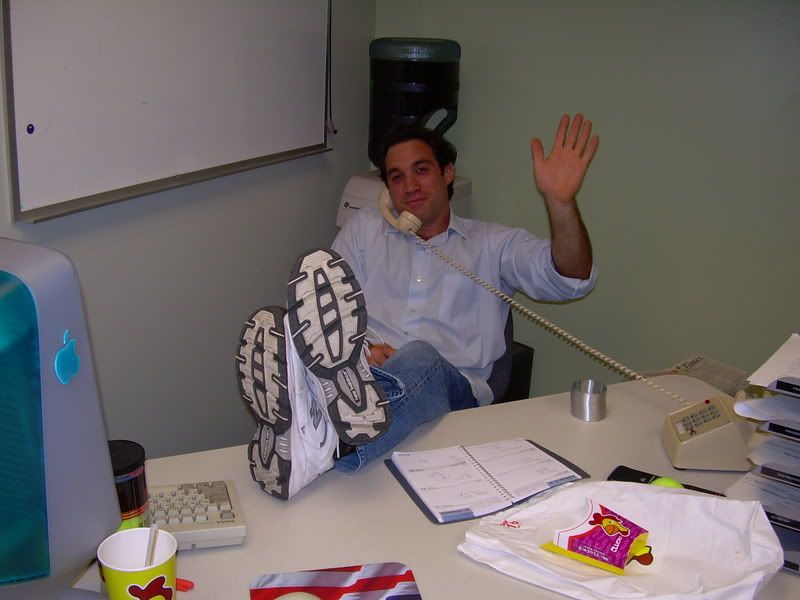 Hours later, Kevin is a clean-shaven Chase for a flashback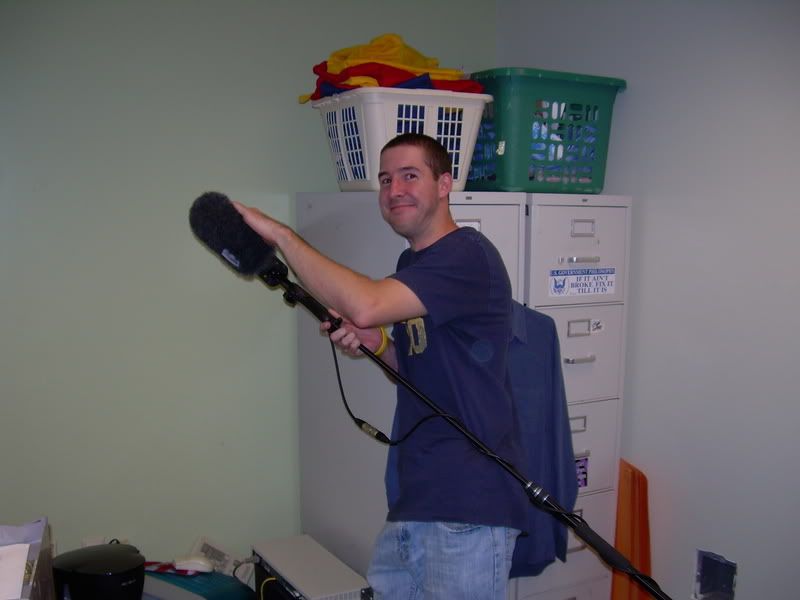 Brian and his…sorry, Brian, I totally forgot the caption, haha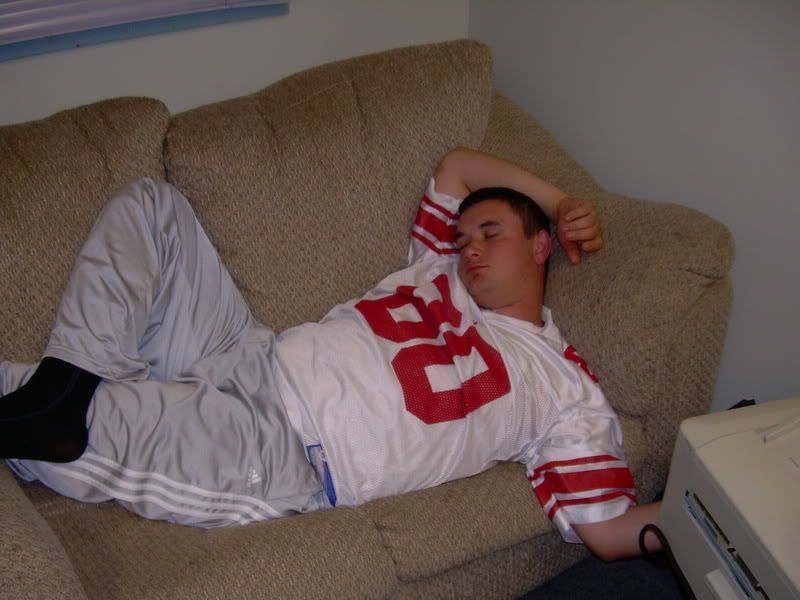 This is what happens when we wrap for the day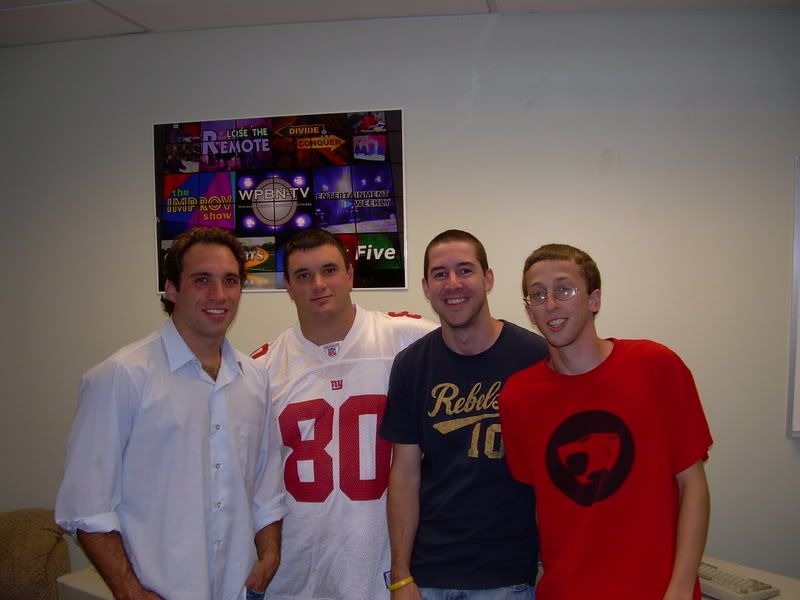 Group shot…Kevin, Bert, Brian, and Me
I cancelled this morning's shoot of the opening scene due to rain.
I'm waiting to see how the weather is at noon before I cancel the rest of the day.
So, a few days ago, I happened to post some of the new stills on a Lost message board that I frequent, and post on sometimes.
I posted under the heading "New Off The Island Stills" in the general section…
A few days later, I come back to see any responses to my thread.
Well, a new mod apparently saw the words "New" and "Stills" and decided to move my thread to the "Spoilers" section, saying some people might not want to see new stills from the new season.
THEN, because of it being in the spoiler section, there was an ongoing discussion about whose flashback these photos came from, and if the photo of The Official was the same guy as "Mr. Friendly" or Tom from the show.
I laughed.
Guess you had to be there.
Today marked the last day of shooting in the "Hatch."
I can't say that I'm sorry to see it go, though, as all of those people cramped into Mark's small room was pretty crowded, haha.
Anyway, we had a nice crew size today. It was myself, Brian (he's only missed one shoot, haha), Mark, and Ben. They all did great, as per usual, so thanks, guys, for helping out. Also, thanks to Mark again for letting us use his room again.
Today, for cast, we had Kevin, Robin Watkins, and Bert. Yea, Bert helped out on crew before, but we used him as a henchman in today's scene. We originally had two, but one dropped out at the last second, so we made do with one. I actually think it worked out better that way.
Anyway, we shot three scenes today: Six (when Chase comes back from the Park, running from the Official), Nine (when the Official and the henchman break into the Hatch), and Fourteen (last time we see Chase, and the end of his struggle to save his brother).
First of all, I gotta hand it to Robin, as he was awesome. He really played the part of The Official very well, and he was very convincing in his role. He was also an extremely tall guy, so he definitely fit the part. He did a fantastic job, and I'm very happy with it.
Secondly, wow…Kevin and Bert. You see, one of the main things that happened in the scenes today was that Bert, the henchman, had to restrain Chase over and over again. The two of them went at it, and it was insane. Take after take, the two of them went nuts and gave it their all every time. They were fantastic, that's for sure. Although, they did break Mark's wall. Haha.
As per usual, here are some set pictures.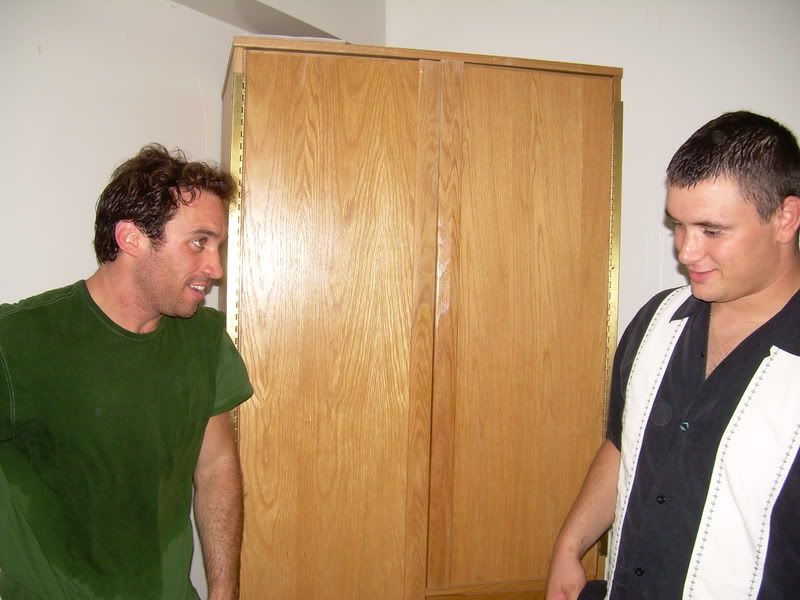 Kevin and Bert after one of their many takes of the fight scene!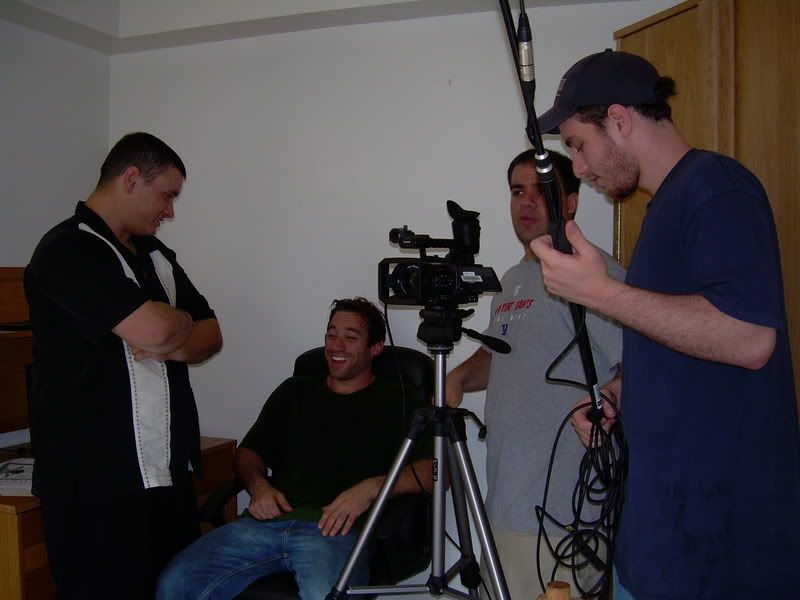 Bert and Kevin share a laugh while Mark and Ben set up a shot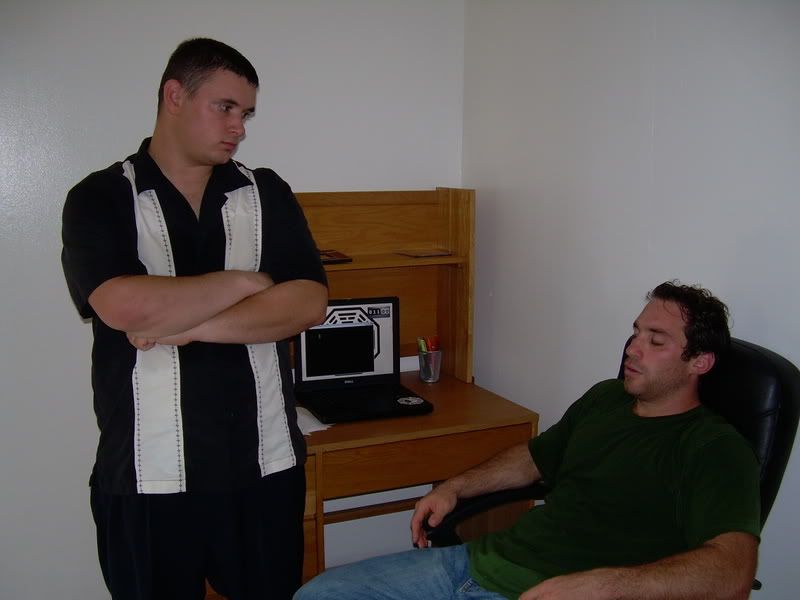 Relaxing a bit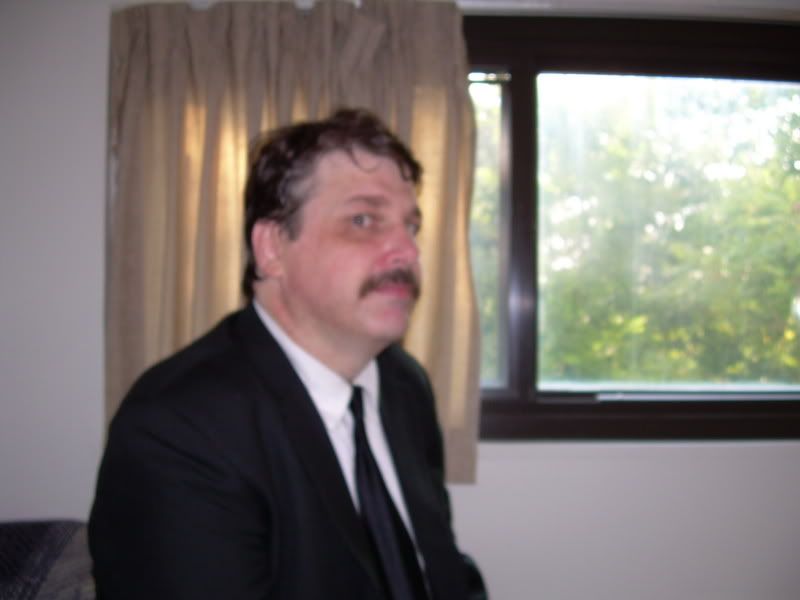 Robin as The Official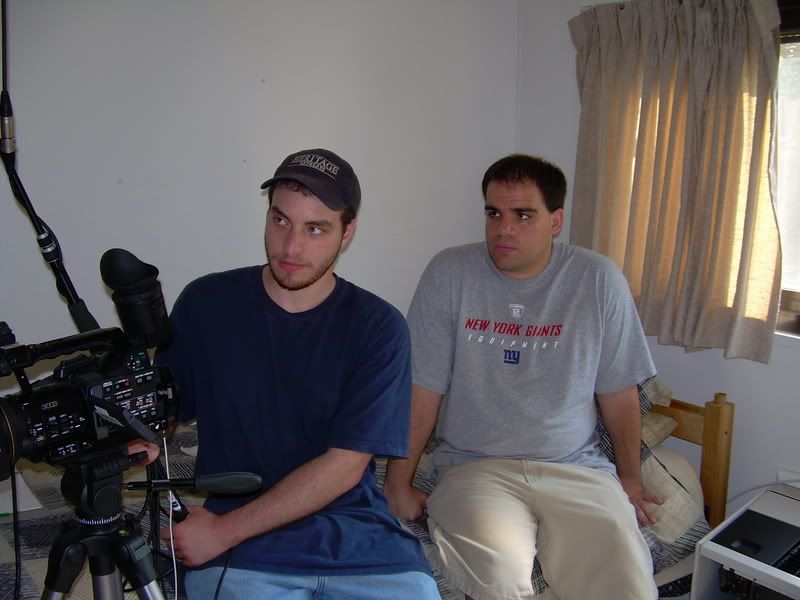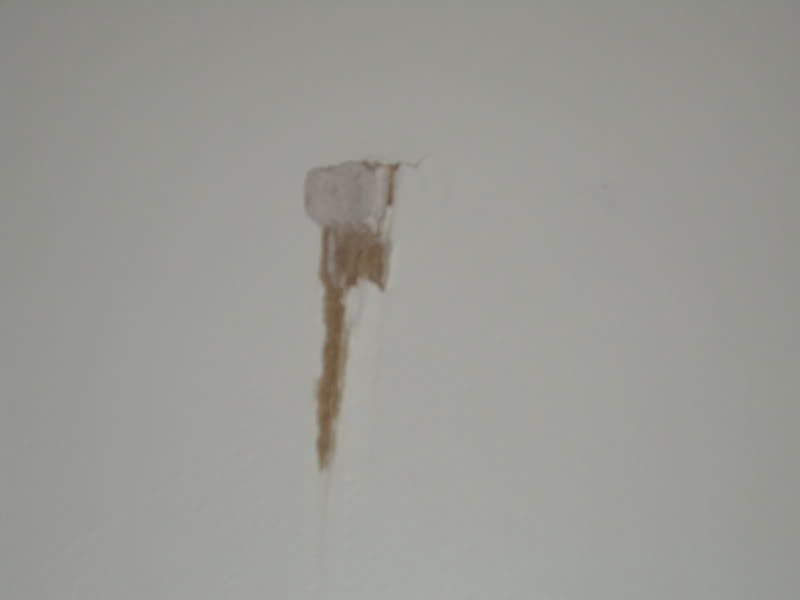 The hole in the wall from the fight scene!